CVC Recap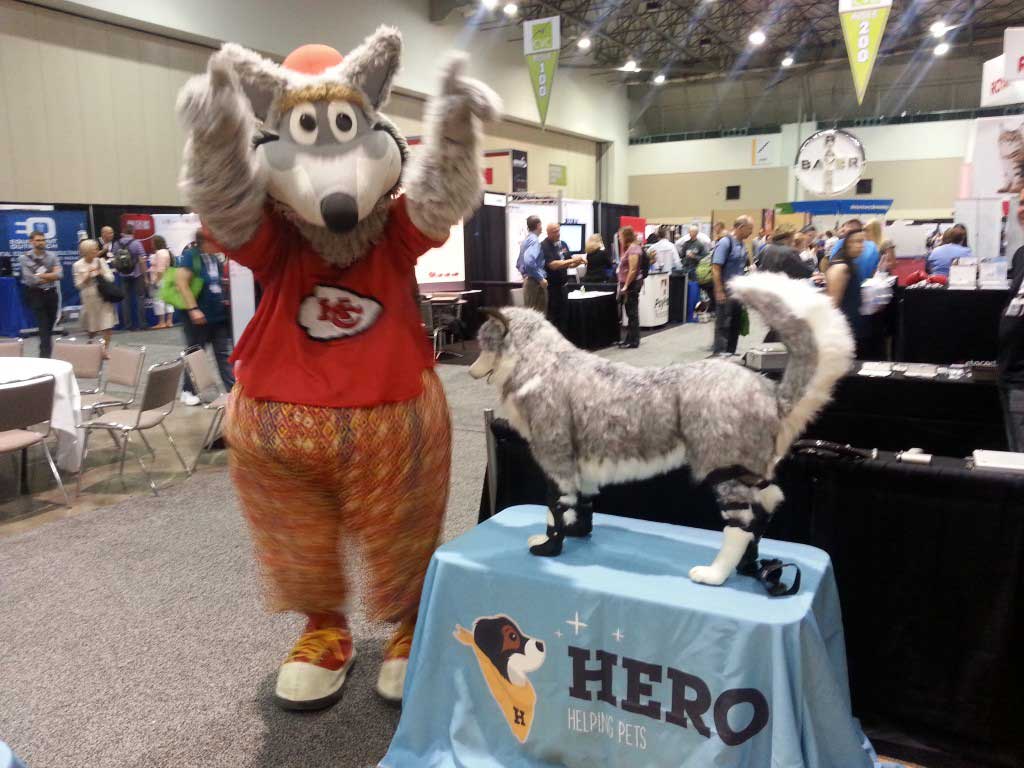 KC Wolf from the Kansas City Chiefs is a big fan of Hero bracing. He stopped by our booth at the CVC conference in August.

Ben Blecha and I just got back from the 2014 CVC conference in Kansas City. It was a great opportunity to visit with veterinary professionals from across the country and talk about bracing as an alternative for surgery for dogs with CCL injuries.

Dr. Carrie Adrian, Director of Rehabilitation for VCA Hospitals, hosted an informative session on the Biomechanics of Bracing and the Clinical Application of Orthotic Devices. Ben and I were available at both lectures and were able to chime in on any questions. I loved seeing so many veterinarians interested in finding out more information about bracing as an alternative option to surgery.

The trade show floor was consistently busy. On Saturday, we were able to showcase Hero Dogs, Antoine and Spree, at our booth. It was great to show attendees how dogs were able to be successful with our Hero braces. It also opened up discussion about special cases and how Hero braces would be able to help.
Crystal and Ben stop by KCLive to talk about dog bracing and feature Hero Dog, Antoine.

Every show we seem to get a few more surgeons stopping by and visiting with us. Bracing is quickly being seen as an alternative for not only the non-surgical candidates, but also as an option for veterinary patients who are looking for a non-invasive, holistic option for their dogs. Surgeons are seeing the benefits for both!

The next big CVC conference is coming up in San Diego in December. See you there!