Caleb, Happier than a Pig in Slop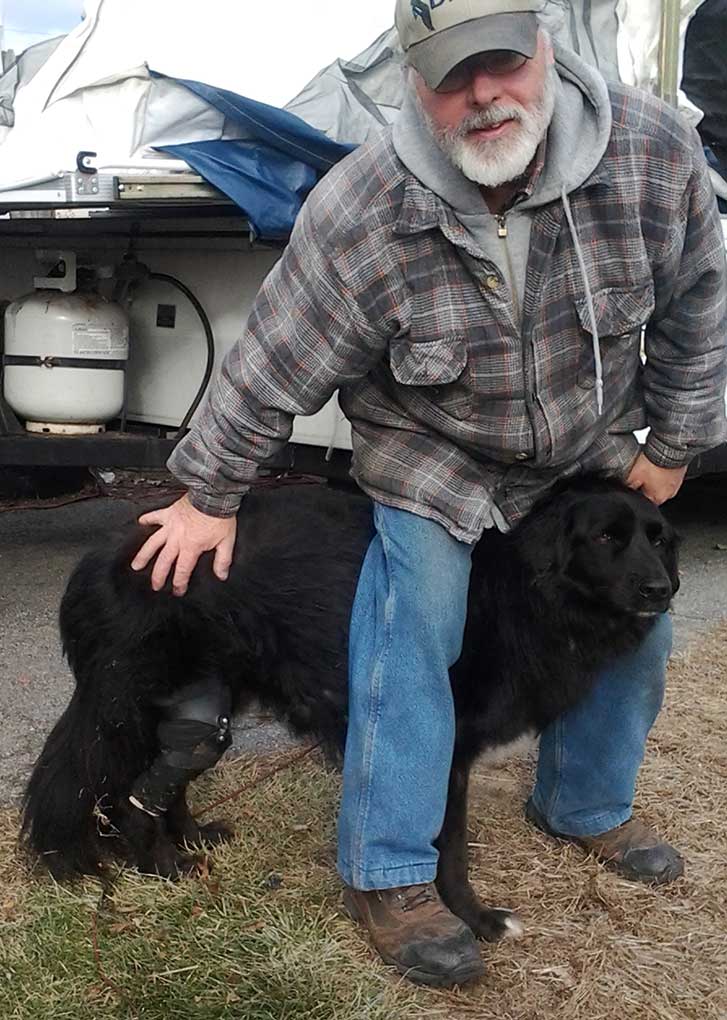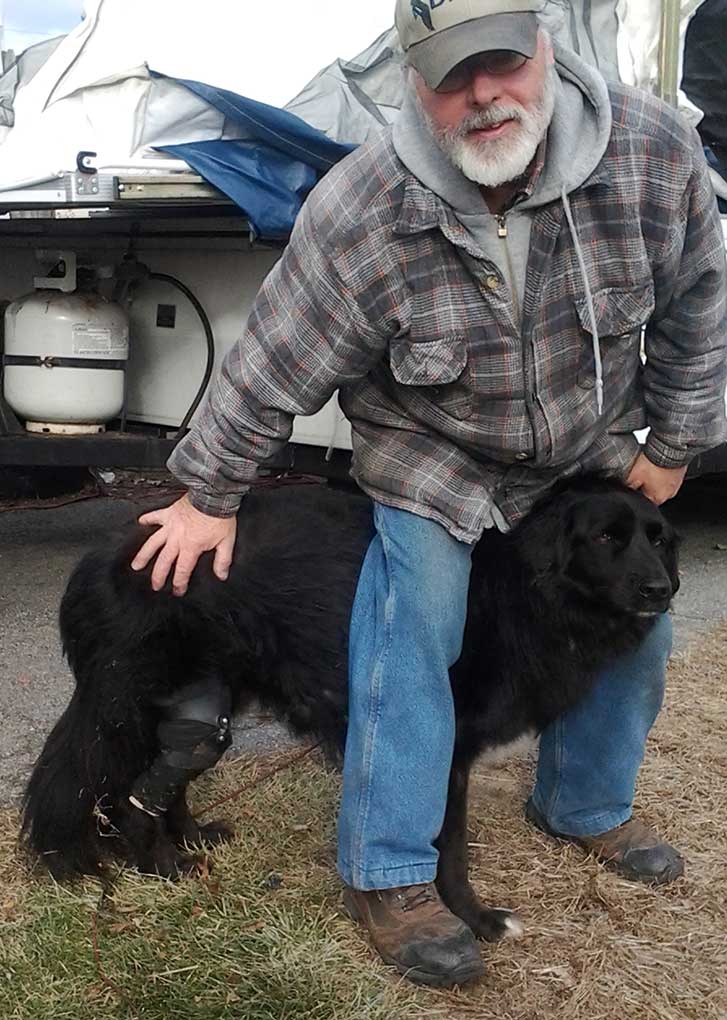 It was an exciting day nine years ago in Massachusetts. It was the week before Thanksgiving, and Greg's family had decided to adopt a new puppy from the local no-kill shelter. Greg and his youngest son were waiting in the greeting area when two dogs enthusiastically rushed up to greet them. Both were full of exuberance and playfulness, looking for a forever home. Both sniffed and wagged and showed off total adorableness. One scampered off. One stayed.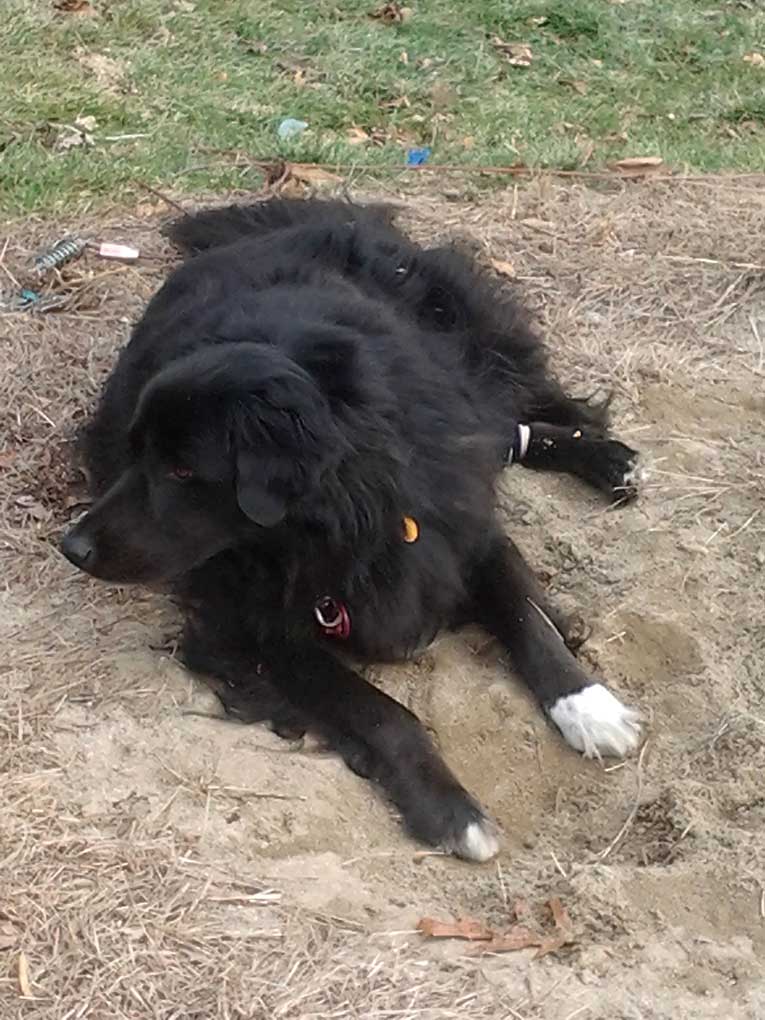 Caleb is half English Springer Spaniel and half Black Labrador Retriever. He is now nine years old and in great shape due to the quality time he spends with Greg enjoying the woods and the outdoors. But three years ago it was a different story, the day Caleb came back to the house with a limp.
Caleb's vet originally thought it was only a hypertension of the dog's leg muscle, and the injury seemed to heal after a week. Six to seven months later, the injury resurfaced but again seemed to heal quickly. Last April, Caleb injured his knee once again but this time didn't recover.
Greg is proud that his dog is a typical New Englander, stoic and strong. This was the first time he had ever heard Caleb cry. When Caleb wasn't able to jump up in the chair with Greg for comfort the night of his injury, Greg got down on the floor himself and spent the night with his dog.
Greg is familiar with his own knee injury and remembers feeling such excruciating pain that he was sick to his stomach. Knowing his dog was in similar agony was more than he could take.
Greg went on the internet to do some research. The most popular solution for a dog with a CCL tear is surgery, but Greg was not impressed with the results. While there is an 85% success rate from the surgery, Greg was concerned about the rates of re-injury. He was also concerned that if the surgery wasn't successful Caleb could actually be worse off. Because Caleb has never been crated, Greg was hesitant of the 13 week recovery period that requiring crating. Greg was also very concerned about the emotional recovery of Caleb and was worried that being crated for so long would do damage to Caleb's psyche.
Then Greg discovered Hero. He picked up the phone and spoke to Monica, finding her extremely helpful and able to answer all of his questions. He worked with a local vet and was impressed with the entire casting process.
A few weeks later, Caleb received his Hero Brace, and he took to it almost immediately. He had been taking Truprofin for pain management, but since receiving his brace, Caleb hasn't needed any pain medication. Because the knee brace supports his leg correctly, Caleb is able to put his full weight on his leg and not worry about re-injury or pain.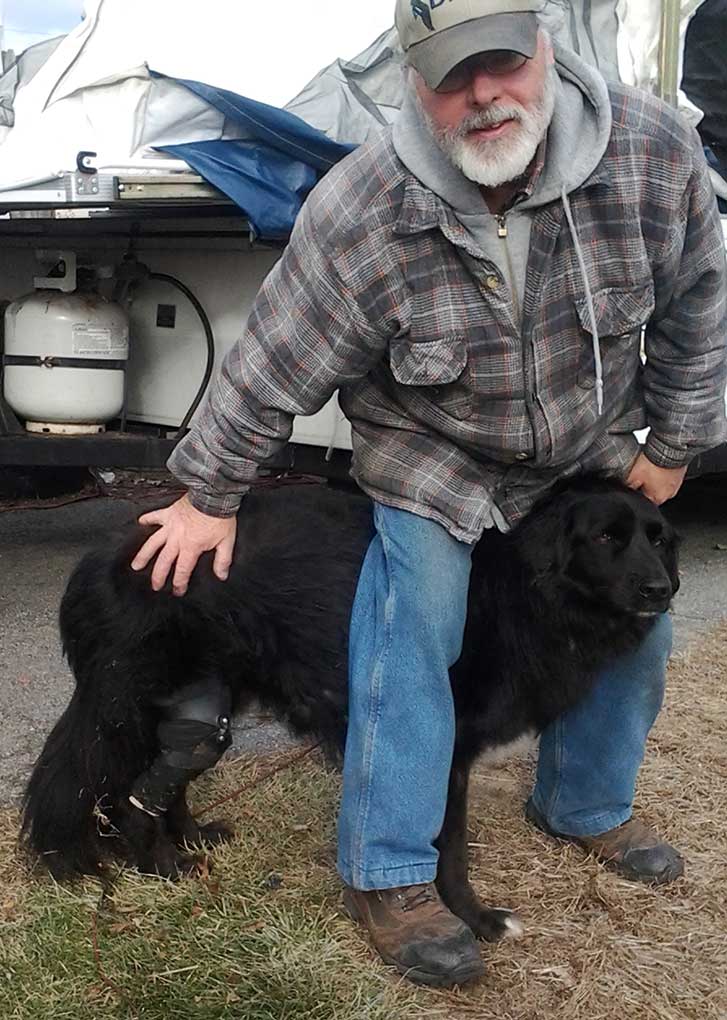 Greg does insist on Caleb wearing his brace for 12 hours a day, 7 days a week. "Know that the brace is not giving your dog a new knee," Greg advises other dog owners. "But you're giving your dog a better quality of life and giving him the chance to play without pain."
Greg can tell how happy Caleb is to be back to his old self again, whether out walking in the woods or jumping up for a rest on the couch, "You can tell when an animal is happy. You can see it in his eyes, in his ears, in his tail. I look at Caleb and I can just tell that he is happier. Caleb is happier than a pig in slop."
Well, wherever Caleb is happiest, on the couch or in the woods, we are glad that we were able to help.
Play, Caleb. Play.